Yes, you read that well. I'm a hardcore Gnome user since… 2002 and I don't really to switch to KDE/Plasma just yet. However, I just wanted to share some of my thoughts concerning Plasma, the new name of the KDE desktop. Plasma 5 is the brand new KDE desktop, coming after the KDE 4.x series and only a handful of distributions have picked up on it. As it were, you could already install and run Plasma 5 on Arch Linux since about January 2015 and a bit earlier I think but as I was reporting here, I was busy with my new laptop and getting progressively into emacs; as such I did not pay much attention to it. During FOSDEM however I noticed Plasma 5 at the KDE and OpenSuse booths and I spent a minute standing there: I really liked what I was looking at, but I was thinking that some sort of heavy theming of the KDE desktop had been going on for the event. It wasn't the case of course.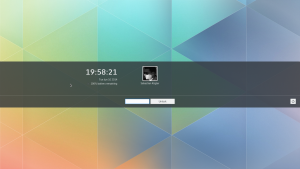 When I got the chance to reinstall Arch Linux on my new laptop, I specifically added the Plasma 5 desktop to my existing set of graphical environments; while Arch was one of the first distributions to offer the latest version of Plasma it was still not technically part of the official KDE desktop packages of the distribution. I skipped the KDE 4 stack and went directly for Plasma 5.
The first time I started Plasma, I must admit I had a waow moment; and for the long-time readers of this blog, I usually do not get waow moments with KDE software: I like some KDE software a lot, such as Okular, GwenView and Choqok, but for me the buck stops there; I mostly use Gnome. Plasma 5 has an amazing start and lock screen; the graphical effects are very pretty and the choice of colours and icons are equally very well made (the new versions of LibreOffice also come with the new Breeze icons that are the default ones for the new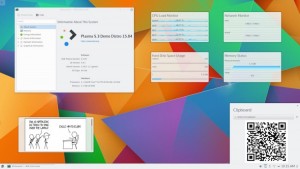 Plasma desktop) and I must say I'm generally impressed by the whole experience.
The only negative point is one of timing: Plasma 5 is still somewhat in a staging phase; the whole KDE applicative stack has not been ported yet and this is something that is visible (at least on Arch Linux); I am curious to try the next version of Kontact for instance. Now I got you even more confused perhaps; I don't plan to move my email to Kontact when I'm still partially transitioning to emacs and use Evolution and Claws-Mail otherwise! But the whole, immersive experience of Plasma 5 may well prove to be impeccable and that's the kind of moments I've been looking for years now.
Unless you're a hardcore Gnomist -and that's fine with me- do give Plasma 5 a try; you won't regret it!
photo credits: OMGUbuntu & the KDE project.