The first LibreOffice Conference will be in Paris!
First, apologies should be made here: The choice of Paris for this conference is a story in itself, and the real issue here is that there was minimal community discussion on this. It all started with yours truly announcing that the OOoCON 2011 would take place in Paris…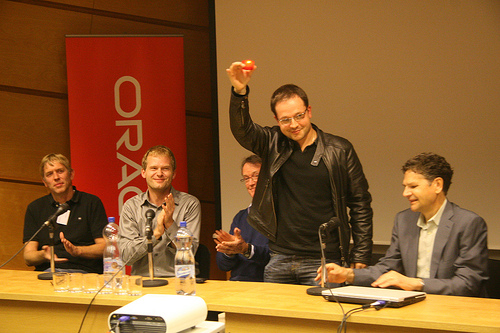 That wasn't my idea, but there's evidence I was one of the culprits (I'm the guy holding the candle). Sigh … Anyway, since I'm no more in charge of the OOoCON and that I don't even know whether they will be an OOoCON at all in Paris or elsewhere it was time to think about a conference for LibreOffice. As it turned out the feasibility of such a conference had already been somewhat studied and that's how we came back with the proposal of Paris as the location of the first LibreOffice conference. I guess it's useless to say that I -we- are proud to host it in the City of Lights and that we're far from realizing the workload that will be necessary to invest in such a project. But what should be stated, as it has been in our press release, is that the conference of 2011 will be an exception in that it will be the only one that will not be decided by our community. The choice for a location for the LibreOffice conference of 2012 will be the result of a transparent community process. Please accept our apologies for this "delay". We hope to see many of you in Paris in October 2011!