Public Interest, Software Freedom and Open Standards
Christmas and the New Year are coming really close now and I would like to wish everyone a Merry Christmas and a Happy New Year. This year was truly exciting for me and I believe that 2015 is going to be a very special one. One of the things that keep coming back and that many of us enjoy during this time of the year is the Christmas cookies, candies and other very nice surprises that we are being offered, or that we bake or purchase. Let's forget the extra pounds that's part of the season's inexorable consequences: this year, we had some another kind of early Christmas delights: Early December, the UK Government hosted the tenth edition of the ODF plugfest. All the participants went away saying it had been a tremendous success; the Document Foundation, its partners and the ODF ecosystem at large attended the event. Above all, there were two very good surprises during the event: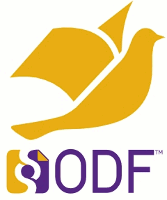 Google is now back at work on seriously implementing the ODF standard for Google Drive. This is major as Google Drive has the potential to become one of the major ODF implementations available. So far, its support for ODF had been hesitant or ambiguous, when not downright technically flawed. We are not being told that Google is committed to have a full, quality implementation of ODF for Google Drive and perhaps for its search engine for the Summer season of 2015. This kind of announcement does not happen everyday and I believe it will give a boost to the ODF ecosystem by extending its potential reach to millions of new users.
The efforts of the UK Government in adopting Free Software and Open Standards are real, actual, and not the effect of some politics-induced buzz. The UK is moving on several fronts, adopting Free Software on the desktop, the server (this is a huge undertaking obviously), creating and liberating a substantial amount of open data, and ensuring its infrastructure and services rely on open standards. It is useful to remember that such migrations are usually hard to lead to completion because of the complexity of the legacy systems and the habits of entire public sector entities interwoven with existing skills and suppliers' relations. If properly carried on, this migration and the new policies born out of it will be of tremendous importance for any other government contemplating such a move. On the other hand, I cannot stress enough the importance of working with upstream projects and initiatives for a government like the UK Government. As I wrote a few months ago, we should expect technical problems and change management issues that must be addressed properly, otherwise the whole migration project could be at risk of failing. Upstream projects, such as the Document Foundation, can help by providing guidance on sourcing the best expertise, and important technological questions. These projects may in turn be helped through the investment of governments: more resources also mean more quality assurance, and features developed for the benefit of all. Public interest and software freedom are not always aligned, in the sense that software freedom grant rights to users of Free Software but does not imply users will get what they want; in this case however, these two notions could become very much aligned. The same holds true for Open Standards: if major chunks of the UK's public sector's pool of documents is migrated to ODF, there is something close to a liability – and an opportunity- for this Government to ensure the format continues to thrive and be improved.
All in all, we have some really good news for the end of the year. I look forward to 2015.
Cheers!